In an internet of darkness there shines forth a light.
Or so we've been told.
In the meantime, feel free to look around. But remember:
This is not your home; this is my home.
I do what I want; not what you want.
I will step on any house I choose.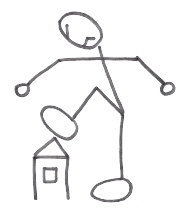 And while the rest of the world is figuring out how to make Web3 work, we're trying to figure out how make Web 1.0 great again.
In the meantime,
Click on this red dot.
It's the best dot. We have the best dots. Everybody says so.
---
Oh yeah!
We are open source now.
If you want to see how this amazing dot-com works under the hood or contribute anything to the site, you are 100% welcome and encouraged to fork us and submit a pull request.
Remember to link back to your own site or profile and do your ex-gratia setup (if you want to share our Google ad space). And bear in mind, we reserve the right to reject some content. But, it doesn't hurt to try.